Aid Stations
---
Please note, AR25 and AR50 is cupless.
Our friends from GU will be providing all entrants a reusable cup for the aid stations!!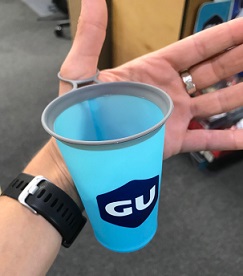 GU Roctane Strawberry Hibiscus and Summit Tea Energy Drink will be served on course along with GU Energy Gels (caffeinated and non-caffeinated), GU CHEWS, GU Stroopwafels, and NEW GU Liquid Energy Gels (Orange, Lemonade and Coffee) and GU Electrolyte Capsules.
We are a cup-less race. All runners will receive their GU branded reusable cup in their goody bag. It is also recommended that you carry 1-2 bottles or a hydration pack. Temperatures will be in the high 70's mid 80's on race day and much of the course is exposed.
Water, Soda (Coke and Ginger Ale) and ice will also be at each aid station.
Folsom Point and Last Gasp will serve GU products and hydration only.
Chips, Pretzels, Cookies, LARA Bars, Trail Mix, Uncrustables, and other sweet and salty foods will be available beginning at Willow Creek.
*All food items are pre-packaged and sealed for your safety and the safety of the race.
**Volunteers will ask you to open your bottles and hydration packs to assist you safely and responsibly.
Please familiarize yourself with the Pace Charts, as it includes drop bag locations, crew access, and absolute cutoffs which will be strictly adhered to:
**Crewing/Spectating at any of the aid stations can result in runner disqualification. Thank you for your cooperation and understanding.